Scheduled to appear... NASCAR star Chase Briscoe, 10-time
IRA Champion and defending race winner Bill Balog, Iowa's
Josh Schneiderman, IRA Champs Jake Blackhurst, Scotty
Neitzel, Jeremy Schultz, Scotty Theil, Illinois standouts
Jordan Goldesberry and JakeNeuman, plus many more...
Purchase tickets online only until Thursday, June 30 at 9 a.m. Afterwards, purchase at the gate for $30 at the Plymouth Dirt Track at the Sheboygan County Fairgrounds. Shuttle buses will be available to transport NASCAR weekend campers from Road America to the fairgrounds.

PDTR
"Gives Back Night"
a big success thanks to all our genorous
fans who donated items for the local food pantry.
We have the best fans at Plymouth Dirt Track Racing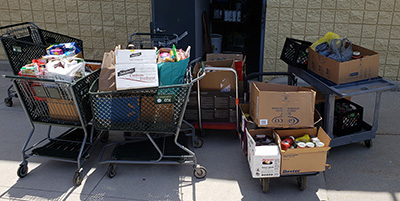 _______________________________________
Arenz, Mueller, Smith, Warner tally Plymouth Dirt Track Racing
A-main triumphs more...
"Rescheduled" Saturday July 9 "Fan Appreciation Night"
Reduced general admission ticket
Plymouth Racing Wall of Fame to debut with Class of 2022 induction Saturday, July 23 more....
_________________________________
New motorsports book "Racing Recollections – Plymouth Racetrack Fans & Drivers 1950-2021" more...



Photos by Emily Schwanke PDTR 5-21-22
INSIDE PDTR
2022 MEMOS
MEMO 4/01/22
PDTR welcomes NEXT Step Insurance as the sponsor of the B Mods for 2022
PDTR welcomes back Oostburg Automotive as the sponsor of the
Grand Nationals,
B93.7 FM Radio as the sponsor of the Late Models,
Kristine Hartmann - Pleasant View Realty as the sponsor of the Sprints and Kunes RV as the "Winner's Circle" sponsor for 2022
MEMO 1/19/22
DRIVERS:
Cow Country Radio wants to help publicize your race team preseason brat frys and fundraisers. for information contact David at Cow Country
office 920-892-9191 david@galaxiebroadcasting.com


2021 MEMOS
MEMO 4/6/21
PDTR welcomes Kunes RV as
the new "Winner's Circle"
sponsor
MEMO 3/15/2011
PDTR welcomes
Oostburg Automotive
as the sponsor of the
Grand Nationals for 2021
MEMO 3/11/2021
PDTR welcomes B93.7 FM Radio as the sponsor of the Late Models for 2021
MEMO 2/1/2021
HELP WANTED
PDTR is looking for a person with racing and computer knowledge. More....

MEMO 2/1/2021 PDTR welcomes back the following sponsors for 2021

Kristine Hartmann - Pleasant View Realty as the 360 Sprints

Cellcom as the B Mod sponsor